OUR BRAND:

I had known for quite some time that I wanted to name the brand "Section 1776". I chose this name because I wanted to build a "Section" of people who had the same mindset as me. I chose 1776 because it's the year our country declared independence. First and foremost the Section had to support the men and women who proudly support American businesses. A section of people who are patriotic, active, and adventuresome who would rather live their life to the fullest instead of sitting idly by.
I can't tell you exactly when the idea of starting Section 1776 came about. It was something that I had thought about for years but didn't know exactly how to approach it. I had zero background in marketing, business, clothing or making a brand, but there was absolutely no way that was going to stop me.
A few things were a must for me when creating this brand. It needed to have the following associated with it:
PORTION OF PROCEEDS WILL

GO BACK

TO MEN AND WOMEN WHO SERVE THIS COUNTRY

EVERYTHING IS MADE IN THE UNITED STATES

THE

LOGO

WOULD BE BASED OFF THE AMERICAN FLAG
OUR LOGO:
THE SECTION 1776 LOGO IS A TRUE AMERICAN LOGO THROUGH AND THROUGH. THE CONCEPT IS BASED OFF THE EXACT DIMENSIONS AND PROPORTIONS OF THE AMERICAN FLAG.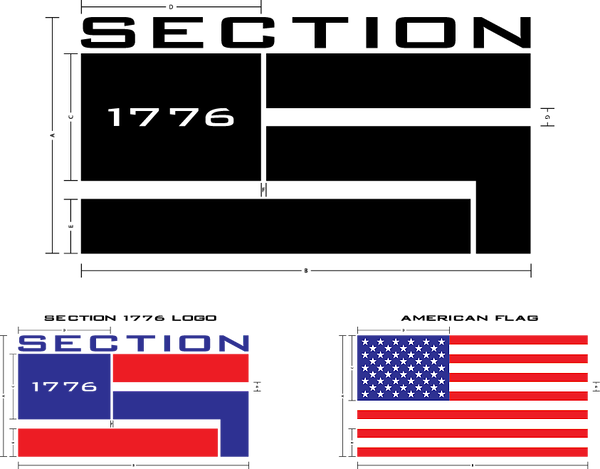 The height vs. width ratio of the Section logo is the exact height vs. width ratio of the American Flag.

The 4 main parts (Union Box and 3 Bars) in the Section logo is a representation of the 4th day in July of 1776, Independence Day. Each bar is the height of 3 stripes from the American Flag.

The horizontal spacing between the bars is 1/50th of the overall width of the logo which represents the 50 states of the United States of America.

The union box is the exact height and width of the union box from the American Flag.
The font type of the words "Section" and "1776" is the named Backslash. It is a bold, heavy and proud font. This particular font was chosen due to the fact that this brand will always give back to the American men and women who have proudly served under this flag.
Logo by: Adam Goldberg and Matthew McDaid