OUR FOUNDER: Matthew McDaid

Born and raised in Southwest Michigan, Matthew joined the United States Marine Corps after he graduated high school in 2003. During his enlistment he was able to attend and graduate multiple schools to include Marine Scout Sniper School, Special Operations Training Group Urban Sniper School, Advanced Reconnaissance Course and an Arabic Language course to name a few.
He spent over 2 years deployed, which included being wounded in action and receiving a Purple Heart in 2004. In 2007 he was Honorably Discharged from the Marines and began attending college. He graduated with a Bachelor's in Science from Western Michigan University in 2012. After graduating he missed the excitement of working overseas so he began doing Diplomatic Security and worked as a Designated Defensive Marksman protecting the American Embassy in Kabul, Afghanistan.
Since leaving Afghanistan he has focused on building Section 1776 from the ground up. His loves and passions are as simple as spending time with his amazing family and friends, enjoying the outdoors as much as possible and continuing to find ways to serve his country.
OUR MISSION: AMERICAN PRIDE IS NOT GONE.
Section 1776 is for people who are still proud to call themselves Americans. It is a group of people who are proud of what they do, who they are and what they stand for. Section 1776 is not just an American brand, it is much bigger than that. It is an idea. The idea that The United States of America is, has been, and always will be the most graced nation on the planet. It is the idea that we must continue to support the men and women who have sacrificed in order to keep it that way. The idea that buying American made products truly does help support American businesses and families.
This is the opportunity for anyone with a passion, desire and burning for something more to become part of the Section that proudly promotes just that. This brand is for the men and women who attack every obstacle thrown at them, who aren't afraid to fail in order to succeed. This brand will set the standard for all others to follow, along with the men and women who proudly wear it. It is time to awaken the idea that once was…..are you ready to become part of Section 1776?
OUR BRAND:

I had known for quite some time that I wanted to name the brand "Section 1776". I chose this name because I wanted to build a "Section" of people who had the same mindset as me. I chose 1776 because it's the year our country declared independence. First and foremost the Section had to support the men and women who proudly protect our country and keep our streets safe. Both Veterans and First Responders. A Section of people who are patriotic, active, and adventuresome who would rather live their life to the fullest instead of sitting idly by. A group of people that are professional, courteous and understand that although we are all different...we can all remain United.
I can't tell you exactly when the idea of starting Section 1776 came about. It was something that I had thought about for years but didn't know exactly how to approach it. I had zero background in marketing, business, clothing or making a brand, but there was absolutely no way that was going to stop me.
A few things were a must for me when creating this brand. It needed to have the following associated with it:
PORTION OF PROCEEDS WILL

GO BACK

TO MEN AND WOMEN WHO PROTECT AND SERVE THIS COUNTRY

EVERYTHING IS MADE IN THE UNITED STATES

THE

LOGO

WOULD BE BASED OFF THE AMERICAN FLAG
OUR LOGO:
THE SECTION 1776 LOGO IS A TRUE AMERICAN LOGO THROUGH AND THROUGH. THE CONCEPT IS BASED OFF THE EXACT DIMENSIONS AND PROPORTIONS OF THE AMERICAN FLAG.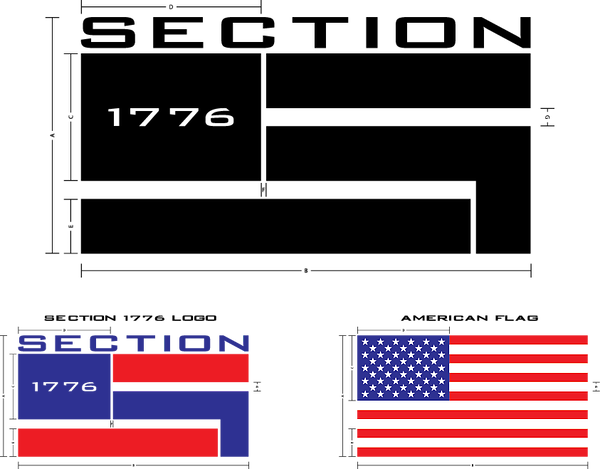 The height vs. width ratio of the Section logo is the exact height vs. width ratio of the American Flag.

The 4 main parts (Union Box and 3 Bars) in the Section logo is a representation of the 4th day in July of 1776, Independence Day. Each bar is the height of 3 stripes from the American Flag.

The horizontal spacing between the bars is 1/50th of the overall width of the logo which represents the 50 states of the United States of America.

The union box is the exact height and width of the union box from the American Flag.
The font type of the words "Section" and "1776" is the named Backslash. It is a bold, heavy and proud font. This particular font was chosen due to the fact that this brand will always give back to the American men and women who have proudly served under this flag.
Logo by: Adam Goldberg and Matthew McDaid